When it comes to GPUs, NVIDIA always outperforms. And when its RTX 16-series was launched in 2019, it stirred the market. This GPU offers similar performance to RTX 3080 but with a much lower price tag which is why it has become the apple of the eye of every gamer. 
Although these cards offer top-notch performance, they might only be suited for some gamers. This card is particularly best for those who play Esport titles and FSPR support. Since the GTX 1660 and GTX 1660 Ti are budget picks for most gamers, many individuals ask which is best and which to choose.
You may also Like: 6700 XT Vs 3070: How Do You Choose?
Both cards have their gives and takes, as the GTX 1660 Super is a more budget-friendly option, while the GTX 1660 Ti offers slightly better performance. But still, both graphics cards are good for 1080p gaming and can handle most games at high settings.
Eager to learn more about these? Read this guide on 1660 super vs. 1660 ti till the end!
Specifications 
| | | |
| --- | --- | --- |
| Specs | GEFORCE GTX 1660 SUPER | GEFORCE GTX 1660 TI |
| TDP | 125W | 120W |
| VRAM | 6 GB GDDR6 | 6 GB GDDR6 |
| CUDA cores | 1408 | 1536 |
| Boost Clock | 1785 MHz | 1770 MHz |
| Base Clock | 1530 MHz | 1500 MHz |
| Memory Interface Width | 192-bit | 192-bit |
| Memory Bandwidth | 336 GB/sec | 228 GB/sec |
| Memory Speed | 14 GBps | 12 GBps |
| Price | Check on Amazon | Check on Amazon |
As you can see, the GTX 1160 super has the edge over the 1660 Ti in terms of power consumption. However, the number of CUDA cores on the latter is excellent. So if you want a decent GPU for deep learning, the 1660 Ti is a good option.
While the VRAM on both GPUs is the same, there are clock speed differences in both, as the 1660 Super is slightly better than the 1660 Ti. However, it will not make little difference performance-wise, but every single digit of clock speed matters for avid gamers. In addition, The bandwidth of the 1660 Super is likewise better than the 1660 Ti, so for gamers, the 1660 Super is a good choice. Note that the output display ports and dimensions are the same on both cards: DisplayPort 1.4a, HDMI 2.0b, and DVI-D. Also, both are dual slot cards. 
Moreover, if you speak of its price, many users vouch for the 1660 Super's reasonable price with much better performance over the 1660 Ti. In fact, the 1660 super offers slightly better frame rates than the 1660 TI while also charging quite a few bucks. However, ultimately, it boils down to your preferences to choose the right one. 
Read Also: Single Fan vs Dual Fan GPU: Which One Should You Choose?
Nvidia GTX 1660 Super vs. 1660 Ti: 1080p Benchmarks 
Now if we speak of the gaming benchmarks of GTX 1660 super vs. 1660 ti for 1080p resolution, they offer similar FPS. However, for some titles, the GTX-Ti offers slightly better frame rates. 
Here is the 1080p benchmark of both for famous titles:
| | | |
| --- | --- | --- |
| Title | 1660 super | 1660 Ti |
| CS GO | 232 FPS | 240 FPS |
| Overwatch | 97 FPS | 99 FPS |
| PUBG | 93 FPS | 93 FPS |
| Fortnite | 116 FPS | 120 FPS |
Nvidia GTX 1660 Super vs. 1660 Ti: 1440p benchmarks
Although these GTX cards are aimed for 1080p during our test for 1440k, these cards offer decent FPS. Speaking of the 1440 benchmarks of both GPUs, here is the overview:
| | | |
| --- | --- | --- |
| Title | 1660 super | 1660 Ti |
| Shadow of Tomb Raider | 42 FPS | 46 FPS |
| Just Cause 4 | 53 FPS | 54 FPS |
| Resident Evil 2 | 63 FPS | 69 FPS |
| Battlefield V | 75 FPS | 79 FPS |
Both GPUs offer pretty decent frame rates at 1080 p settings; however, the 1660 Super is a bit lagged behind the 1660 Ti. During the benchmark tests, the 1660 Ti was 2.7% more efficient than the SUper for 1080 p benchmarks, while at 1440p, the benchmarks of Ti were 4.5% better than Super.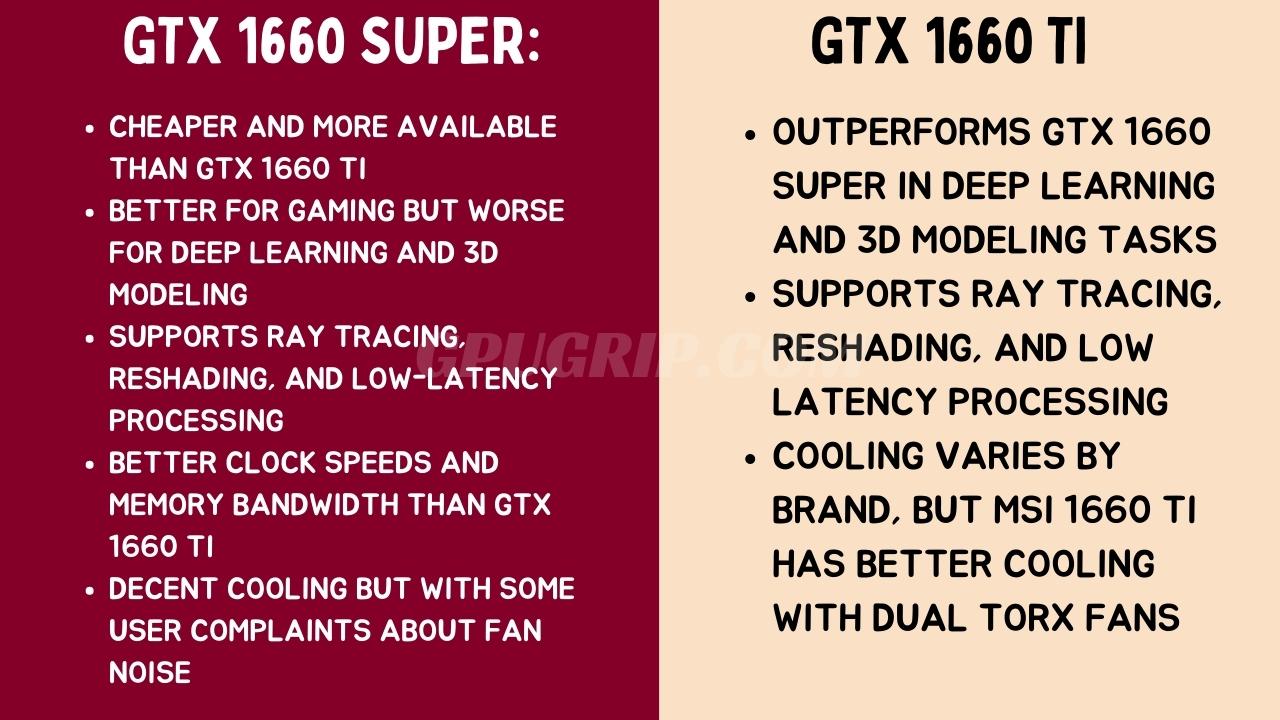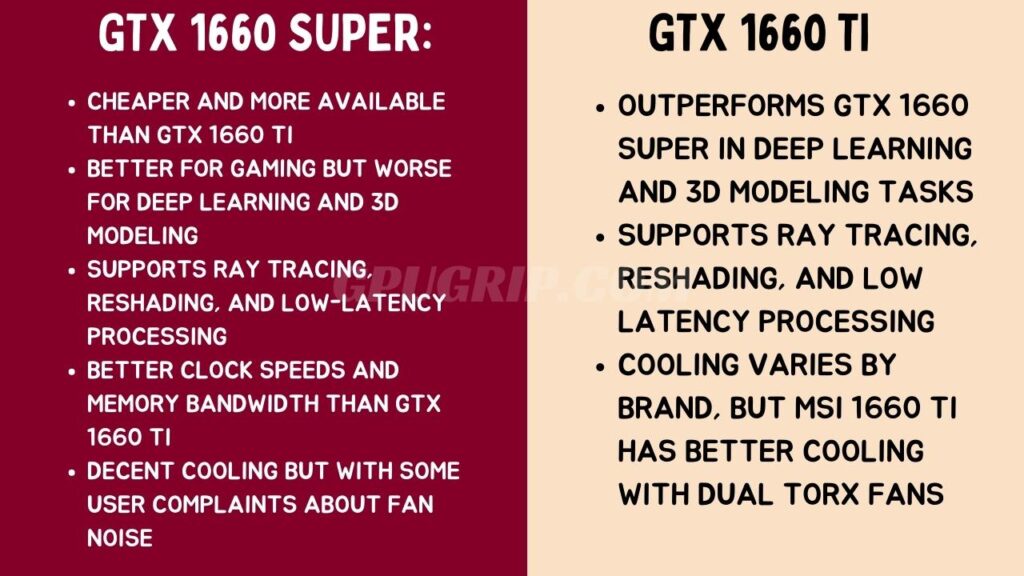 Pricing and Availability 
Since the GTX 1660 Super is a successor to the 1660 Ti, its price is less than Ti. Although the prices vary from brand to brand, the launch price of Super was less than 230 bucks, while for the Ti, there was a $50 high price. 
However, soon after their launch, COVID-19 hit, and the prices of the GPUs in the global market skyrocketed, which is why there is a difference in the prices of both GPUs 0now. However, the GTX super is still more reasonable than Ti and more readily available than the latter. Note that the availability of the GPUs varies from region to region, so it's best to check different sites to get these GPUs.
Performance
The GTX 1660 Super is a bit lagged behind the 1660 Ti in terms of performance. If you want to do deep learning tasks or 3D modeling, the TI is a good choice since it has more CUDA cores than the SUPER version.
However, the 336 GB/sec bandwidth of the SUPER makes it a better choice for gaming as it processes more data. Speaking of the price-to-performance ratio, the SUPER definitely outperforms since the latter comes with a bit higher prices. 
Note that both cards have the capability to Ray trace, Reshade, and NULL-NVIDIA Ultra-Low Latency so you get the best in-game performance. You get life-like graphics for games with ray tracing, and with the shading facility, you get to do ambient occlusion, field depth, and color correction for the games. And that's not the end, as, with NULL, you get lag-free in-game performance as it promptly processes your inputs.
Clock Speeds And Memory 
The clock speeds of the SUPER are better than the Ti version as for memory speed, it offers a 2GB increase, and for clock speeds, it is for a 25-30 MHz difference. So if you indulge in an activity that demands higher clock speeds, the super is best. And the fact that the SUPER is reasonably priced, the 1660 Ti gives it an edge over the other. Moreover, the memory bandwidth of the SUPER is also better. 
Cooling And Temperatures 
The cooling of both GPUs depends on the brand you are getting from however, for an overview; we selected the MSI 1660 SSuper and 1660 Ti. The GTX 1660 Ti had TORX Fan 2.0, which offered amazing in-graphic cooling. While overclocking, the Ti definitely performed better than the Super owing to its dual Torx fan. Although the 1660 Spear also has a decent cooling mechanism, users say its fans are flicky and noisy. 
Some Points to Consider when getting GTX 1660 GPUs
Since you are in the market for the best GPU that goes hand in hand with your gaming and graphic needs, you need to consider a few points to make a worthy purchase.
First, you have to check if you want an OC version or not. Since overclocking on the GPUs can improve the gaming performance of both graphics cards, however, there is a catch. It will also increase power consumption and heat generation, so you have to weigh the give and take to get yourself the best one.
Next, check that the GPU can go hand in hand with your system component. As for PUS, both cards need 450W PSU and a PCIe 3.0 x16 interface, so you should check if it goes with your system or not.

Another tip is that if you're on a tight budget, consider buying a used or refurbished graphics card to save money. While the price of both GPUs has a 50 dollars margin, so for that, you should know which one to choose. And yes, remember to check for discounts and deals on these graphics cards, especially during holiday sales and promotions.
And last but most important is regular cleaning and maintaining your graphics card to ensure optimal performance and longevity. You can stretch the life of your GPU with proper maintenance.
The Takeaway
If you want to get the best in-game performance for 1080p and 1440p and want a mid-range GPU, then both are decent choices. You can achieve decent frame rates from both GPUs; however, the raw performance of the TI has a bit of an edge over the SUPER.
But one thing that makes the 1660 Super a better alternative is its reasonable price and good price-to-performance ratio. If you're on a tight budget but want to achieve good FPS, go for the 1660 Super, but if you are an avid gamer for whom even a few FPS differences matter a lot, then go for the 1660 Ti. Moreover, the 1660 super also offers better TDP than Ti.
The 1660 Super is the winner here as it offers somewhat similar performance but with relatively fewer bucks. Moreover, it also outperforms in terms of gaming efficiency.