Nvidia GeForce GTX 1080 Max-Q is a new graphics card that is specially designed for laptops and it is only found in laptops. This graphics card is developed for high performance of laptops during gaming when you need high resolution on your screen. 
If you are looking for a lightweight and high-resolution gaming laptop for you, then a laptop with a Max-Q card is the best choice for you. It is specially designed for gamers to enjoy their video games at high resolution and sound system. Nvidia launched this graphics card in 2017 for gaming laptops and now it has become the need of gamers to buy.
You may also Like: Best GPU for 1080p 144hz Gaming 2022-23
Nvidia GeForce GTX 1080 with Max-Q Design
Do you want to know about Nvidia Geforce GTX 1080? It is a thinner graphics card developed for gaming laptops. The gamer's demand is always a high-speed laptop that can work efficiently during gaming. Nvidia has designed the GeForce GTX 1080 with a Max-Q design on their demand for lightweight and high-speed laptops.
Max-Q allowed the use of graphics on laptops for increasing their performance and making them more lightweight. Their main purpose is to provide the system with a light cooling system and better system efficiency.
As we know, during gaming the system needs a high-speed cooling system to maintain its performance. Max-Q has designed the graphics card for this purpose to let gamers enjoy gaming on high resolution. This graphics card has made the laptops thin, lightweight, and high-speed for gamers.
Also check out: Best GPU for Ryzen 5 2600
Features of Nvidia Geforce GTX 1080
Nvidia Geforce GTX 1080 has been designed to make the laptop the gaming powerhouse for gamers and added an extraordinary feature for users. Most gamers have issues related to space, system cooling, and resolution on their laptops.
Nvidia has solved all issues related to gaming and designed high-speed Max-Q graphics cards. The lightweight graphics card has solved the portability issue and space issues also for gamers.
High Performance
Nvidia has introduced a high-performance GeForce GTX with a Max-Q graphics card. It has increased the performance level of the CPU in gaming laptops. Gamers can now play high-resolution games on their laptops without any performance issues.
They can install high-level games on their laptops to enjoy without worrying about speed issues or performance issues. Nvidia has made laptops with Max-Q cards that give a high-peak performance to gamers.
Great Thin Design
If we talk about the design of the GeForce GTX by Nvidia, it has made the laptop size thinner than the others. The size of laptops has been reduced to thinner and they are easy to carry. It has solved the portability issue and gamers can carry their laptops anywhere they want.
Perfect Speed Balance
While gaming, the system starts to heat up due to the high resolution of video games. The use of Max-Q cards in laptops keeps the system in balance during the game and lets the users enjoy the best gaming experience without worrying about system balance.
The high-level cooling system keeps the system in balance by using the extra cooling feature. It helps the gamers not to stop the game and wait for the system to come into balance.
Whisper Mode
Nvidia Geforce GTX 1080 has also introduced whisper mode for gamers that works for reducing sound pressure. Now when users are playing games, they do not need to cancel noise. This is because the Max-Q has introduced the whisper mode in laptops for gamers.
You can turn on the whisper mode by going to settings that are a new feature in graphics cards.
Light-weight Portable Graphics Card
Max-Q design has come in a very lightweight with 18mm size and it weighs 4 lbs at 3.96 lbs. This light size of graphics card has a very high-speed performance that has solved all issues. The gamers are really happy with this high-speed graphics card which has made laptops thinner and light-weight.
The portability of laptops has increased due to this light graphic card and size has reduced. It also increases the system performance by 70% more than a normal graphics card.
Nvidia GeForce GTX 1080 with Max-Q Design Driver Updates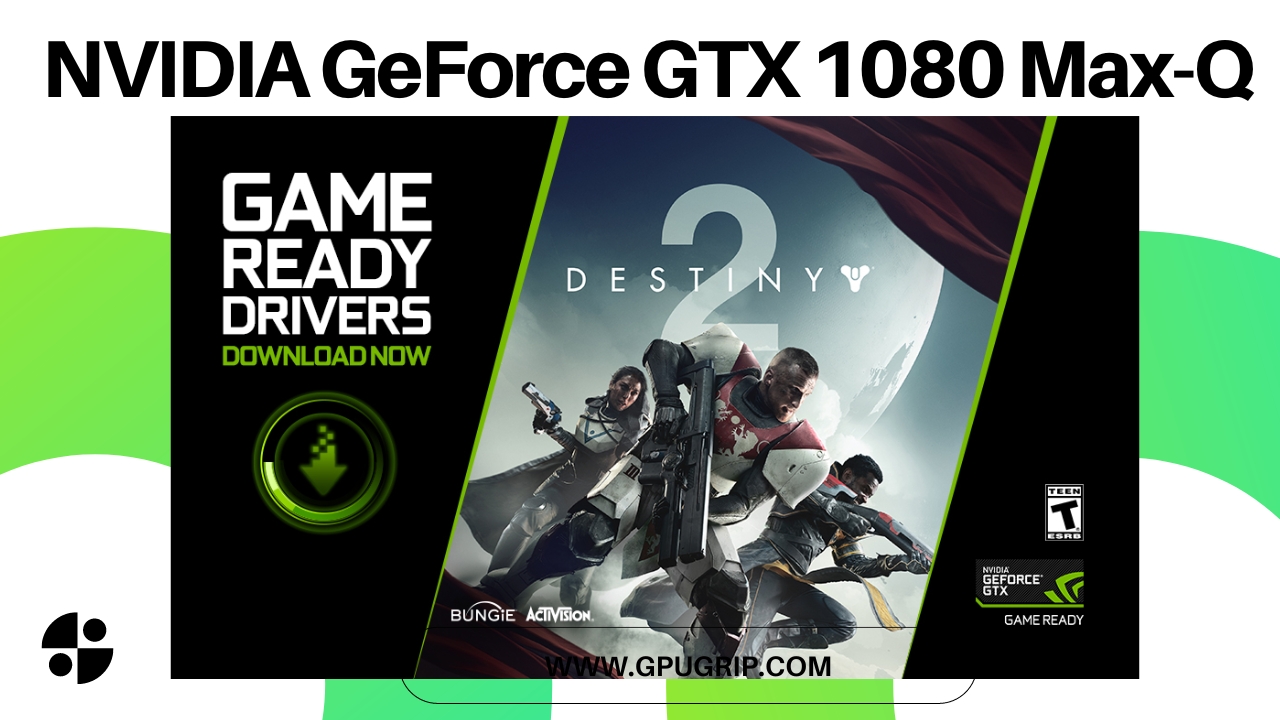 Do you want to run an Nvidia GeForce GTX 1080 with a Max-Q design driver on your laptop? It is easier to find GeForce drivers and also update them if needed. You can easily search for GeForce drivers on your laptop to install or update for better performance. The GeForce automatically updates you when new updates for the Max-Q graphics cards are available. 
You can also check for new updates if available. Just click on the update option and install the new update available for your laptop. In this way, you do not need to leave the desktop while performing another task.
Automatic Updates
You receive a notification from GeForce when new updates come for your graphics card. In this way, you can easily get all new drivers and update them without leaving the system. You just click on the update and it starts to update automatically. Go to the settings and turn on the notification when new drivers are available for update.
Manual Search
Another method for Nvidia GeForce GTX 1080 with Max-Q design driver download is a manual search. You can search for all new drivers by using your system information on the Nvidia GeForce site. You have to provide the following information on GeForce:
Product Types
Product Series
Operating system
Language
Download type
In download types, you enter whether you want a game-ready driver or a studio driver. In the product series, you enter GeForce series 1080 to get all drivers. In language, you have to select the language you are using on your laptop. The operating system asks about your windows version and whether the system is 64-bit or 32-bit.
Conclusion
Nvidia GeForce Max-Q design graphics card with series 1080 has introduced portability, high performance, whisper mode, and great design in gaming laptops. This graphics card increases the system performance while gaming with extra cooling features. It has increased the portability of laptops and gamers now can carry their laptop anywhere.
You can get the drivers for this card automatically by turning on the notification from the setting and also searching manually.
FAQs
What is the function of GeForce 1080 Max-Q in laptops?
GeForce 1080 with Max-Q design increases the performance of the CPU while gaming with the high-speed cooling system. You can play high-resolution games without worrying about system performance.
How can I update GeForce GTX 1080 drivers?
You can get a driver update notification by turning on this feature from your laptop. Another way is to search for drivers manually by providing your system information.