In the market, we find many new and powerful gaming graphics cards for gaming PCs. These GPUs let you enjoy high-resolution games on your system with a higher data transfer rate. For these games, PS4 was developed for gamers to support video games with high 1080p resolution.
PS4 GPU has all related features for video gaming and shows the best quality. This console came on the top most graphic cards that are best for gaming PCs. The GPU was designed by AMD which is used in PS4, a company widely known for its gaming products. But now it has become out of version due to which gamers want  PS4 GPU equivalent Graphic cards.
You may also Like: Best GPU for 4K Gaming
In this article, we are going to describe the GPUs which are equivalent to the PS4 GPU.
What Graphics Card Does the PS4 Have?
PS4 comes with a highly specific graphics card that is powerful and has a faster data speed. It has GPU-capable Radeon GCN architecture with 18 computing units. It has 8GRRD memory with a 256-bit interface. The main target of the GPU is to hit 1080p resolution on screen while gaming at the best speed.
The graphic card used in Playstation 4 operates at 800 MHz to make sure data is transferred at a higher rate. The maximum power draw of the PS4 graphics card is 75w from the CPU. it has 1.84 TFLOPS, the PS4 Pro 4.20 TFLOPS as compared to Radeon Chip. it can handle 30 frames per second while working on screen.
Specification of PS4 GPU
PS4 GPU has all the required specifications that gamers need to play high FPS games on 1080p resolution. This play station has the speed of a PC graphic card and ensures the gaming performance of the system. The built-in resolution handling capability is 1080p and the clock speed goes to 30FPS. It was released in 2013 with all qualities of that year's games.
PS4 had an 8-core processor with an 8GB GDDR5 memory chip. The memory has a faster speed of data transfer rate that runs at 2.75 GHz. This is enough speed to run high-resolution games on a PC. PS4 can handle both 780 and 1080p resolution games smoothly. Affordable prices make it the ideal choice for gamers. But the defect is that it cannot handle 4K videos and games.
Is there a Graphics card that is equivalent to the PS4 GPU?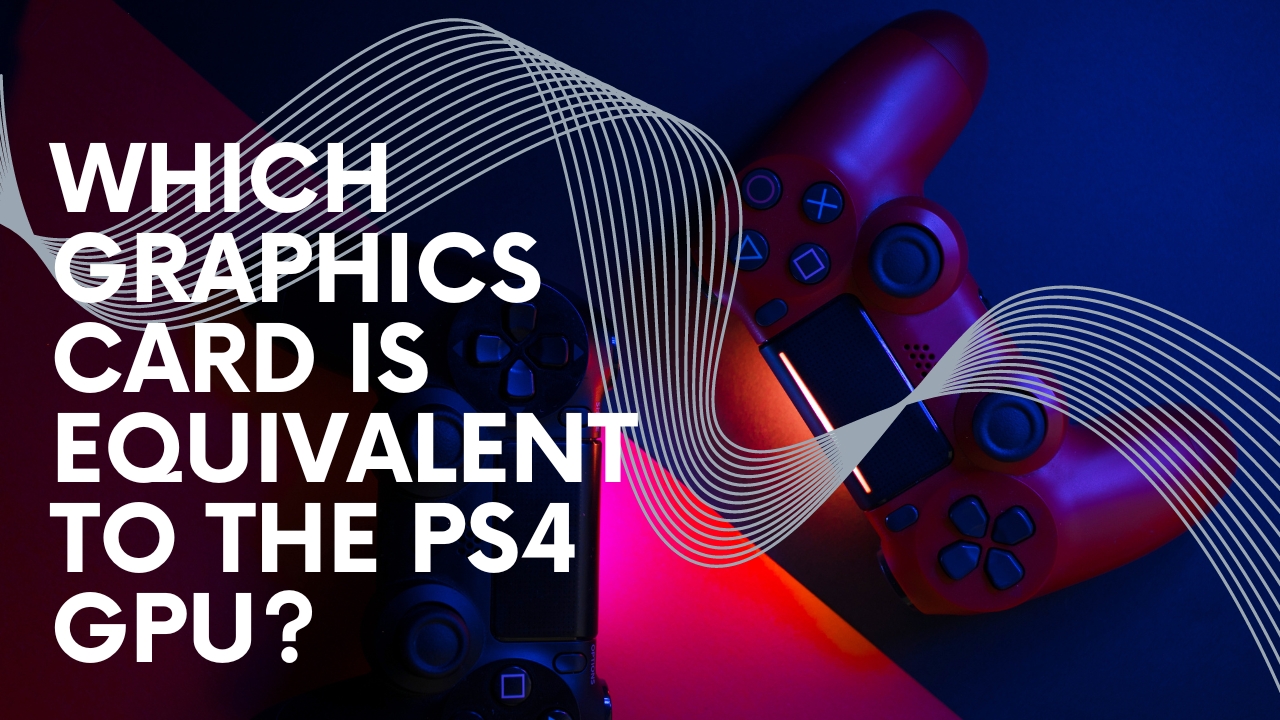 PS4 was the best and most famous hardware console in the gaming world when it was released in 2013. It had all specifications to handle high graphics games and came with the best processor chip. Gamers gave preference to this ideal card to enjoy their favorite games on the system.
But now in the gaming world, developers have introduced many new high-quality 3D graphics games. These games require high-clock speed games and need newer features. Most of the games have 4K and 3D resolutions which need the fastest GPUs. But the GPU on PS4 cannot support 4K resolution because it is not compatible with it.
The need then found is that gamers want to have the best PS4 equivalent GPU. The PS4 Graphic card is equivalent to the AMD Radeon 7850 or Nvidia GTX 750 Ti. Both of these GPUs have similar specifications to the PS4 and can handle 4K resolution screens. But these cards are costly and may not be affordable for every gamer. So there are some alternatives available in the market to use in place of PlayStation 4.
Most Search Query: How Much VRAM Do You Need for Gaming?

Quick Comparison chart of alternative GPUs
| GPU Model | MSI Gaming X GTX 1650 | GeForce GTX 1050 Mini | Gigabyte RX 570 |
| --- | --- | --- | --- |
| Manufacturer | MSI | Nvidia | Gigabyte |
| Graphics Processing Unit (GPU) | Nvidia GeForce GTX 1650 | Nvidia GeForce GTX 1050 | AMD Radeon RX 570 |
| GPU Architecture | Turing | Pascal | Polaris |
| CUDA Cores | 896 | 640 | N/A |
| Base Clock | 1485 MHz | 1354 MHz | 1168 MHz |
| Boost Clock | 1860 MHz | 1455 MHz | 1244 MHz |
| Memory Speed | 8 Gbps | 7 Gbps | 7 Gbps |
| Memory Capacity | 4 GB GDDR5 | 2 GB GDDR5 | 4 GB GDDR5 |
| Memory Interface Width | 128-bit | 128-bit | 256-bit |
| Power Consumption | 75 W | 75 W | 150 W |
| Recommended PSU | 300 W | 300 W | 450 W |
| Outputs | DisplayPort, HDMI, DVI | DisplayPort, HDMI, DVI | DisplayPort, HDMI, DVI |
| Dimensions (L x W x H) | 247 x 127 x 51 mm | 144 x 111 x 38 mm | 232 x 116 x 40 mm |
| Cooling System | Twin Frozr 7 | Single Fan | WINDFORCE 2X |
| Features | G-Sync Compatible | HDCP 2.2 Support | DirectX 12 |
The GTX 1650 is one of the best graphic cards for gaming PCs by MSI and has a GeForce chip. This GPU comes with a dual fans system. It supports a faster cooling system on PC while working on 4K games. Gamers who want a high cooling speed graphic card should choose this gaming GPU for their system.
GTX 1650 has a high processor speed of 1860 MHz, which is enough for faster data transfer. The GPU has 4GB of GDDR5 memory RAM and 896 core units. Moreover, the memory interface of this GPU is 128-bit.
GeForce GPUs are also known for their best gaming output and can be used as an alternative to the PS4 GPU. The GTX 1050 is a compact graphic card by GeForce that you can use in place of a PS4 graphic card. This GPU comes with 2GB GDDR memory and has 640 cores.
The graphic card can boot up its memory to 1455 MHz for high-resolution games. It has a single display port which means it supports only a single screen. It does not contain any backplate to support the GPU from external damage. The GTX 1050 has an affordable price and is best for gamers who want to run a 1080p resolution screen.
GTX 1050 has faster and more efficient memory speed than other low-budget GPUs in the market. The GPU has 4 GB memory and a 144.78 x 111.15 (millimeter) size chip.
RX 570 also comes in PS4 alternative GPUs by Gigabyte which is also a famous GPU company. The GPU is recommended as an equivalent PS4 GPU for 1080p resolution games and has GDDR5 memory. This GPU has a dual fan cooling system that maintains the system temperature when it rises.
RX 570 has a beautiful design shape in an orange and black color combination. It comes with a 1255MHz clock speed to cool down the higher temperature. RX 570 has a single HDMI 2.0b port and 3 DP 1.4 ports. It supports a 256-bit memory interface that is enough for 1080p games and videos.
Final Words
Playstation 4 or PS4 was a high-quality hardware component to play high-resolution games in 2013. This console had a specified graphic card to support 1080p games and videos. But after the interdiction of new versions in this console, it became out of date and costly to buy. So gamers are searching out alternative GPUs which are equivalent to PS4 graphic cards.
We have described some of the GPUs that are available in the market and equivalent to PS4 in performance.