The Nvidia GTX 1660 came into the market three years ago and has a reasonable price. This graphic card is best in price and performance for gamers. Nvidia has also introduced two new versions of the GTX1660 in the market. These are the GTX1660 super and 1660 Ti for gamers.
Is a GTX 1660 good for gaming? We will know these graphics in detail whether they are good for gaming or not. Let us know about the features, resolution, and price rate.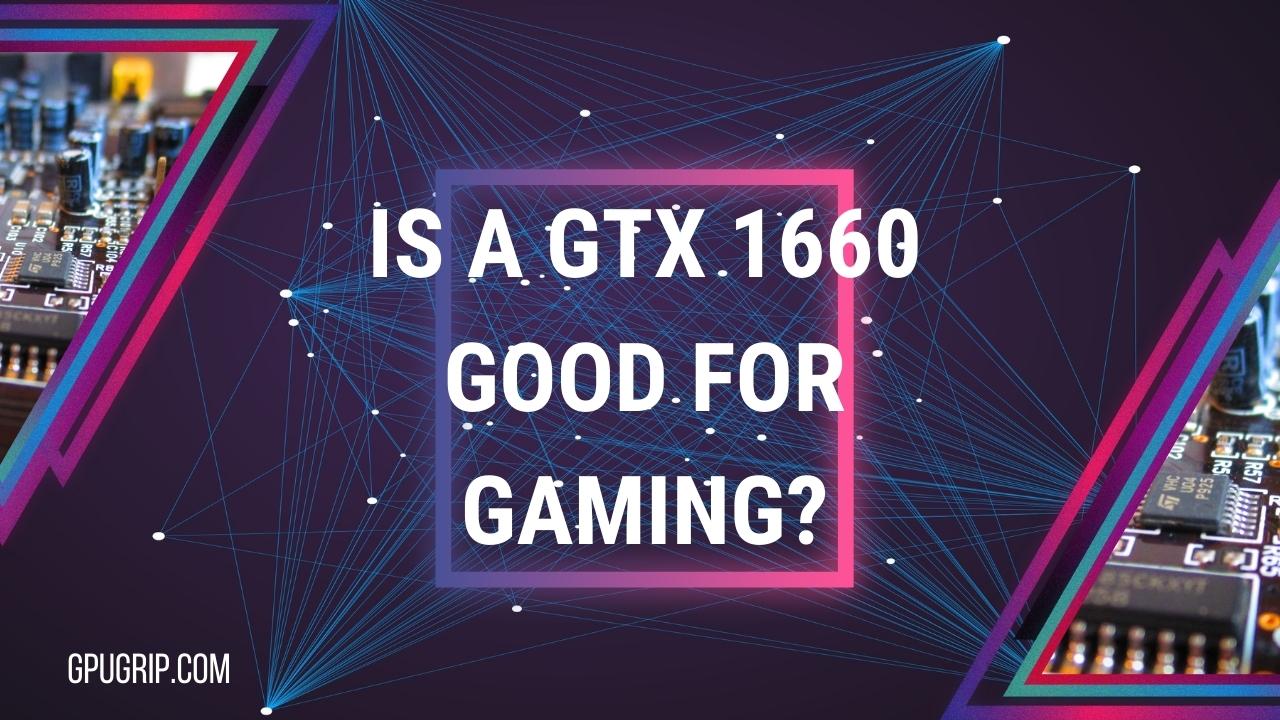 You may also Like: Best GPU for Ryzen 9 5900x
Nvidia GTX 1660
Nvidia is a popular GPU company that has designed a series of graphics cards for gaming laptops. And Nvidia GTX 1660 is also a reliable and high-performance graphics card for gaming laptops. This graphic card was developed for playing 1080p video games at high resolution. It has the best performance and a reasonable price for users.
The card has a memory space of 6GB and a clock speed of 1530 MHz. The user can use this card to play Fortnite, Battlefield V, Far Cry 5, Apex Legends, League of Legends, GTA V, Rainbow Six Siege, Minecraft, and Overwatch. The boost clock speed of this card is 1785MHz to run high-resolution games.
Nvidia 1660 has a bandwidth of 192.1gps and all its specifications are good enough for playing 1080p relation games. The user can use this card as a reliable GPU on a gaming laptop to enjoy high-rate gaming performance.
These specifications make it better than other GPUs such as Intel or AMD for the gaming experience. It has a good boost clock speed of 1785MHz and some other manufacturers have introduced a maximum boost clock speed of up to 1800MHz. This clock speed is providing the best CPU performance for gaming laptops among users.
Moreover, the next plus point of this GPU is that it has a low power consumption ability for performing all tasks on the CPU. Users do not need to worry about the power consumption of their laptops while playing high-resolution games. No doubt this graphics card has less memory and 1408 CUDA Cores, which is less than its new version 1660 Ti.
Performance of GTX 1600
The GTX 1600 is an excellent and high-order graphics card for gamers that has a booster clock speed of 1785MHz. This graphic card lets users play 1080p resolution games on their gaming laptops or PC without any performance issues. The card is designed to perform high-speed tasks on PC and is superb in performing 1080p videos.
As compared to the newly coming GPU in the market, the GTX 1660 can perform all 1080p and 1440p videos at 60fps. The testing scenario supported both 1080p and 1440p resolutions on laptops at regular performance.
Price of GTX 1660
The GTX 1600 by Nvidia comes in a normal and affordable price range in the market. Gamers can buy this GPU for their gaming laptop and use it to enjoy all types of 1080p and 1440p games. Compared to its new version, the GTX 1660 has a lower price rate for gamers; they can buy this GPU at a normal price range.
Check out this article too: What is RX 580 Max Temp?
Cooling speed
GTX 1660 also provides the best cooling speed when the user is playing high 4K games on laptops. It maintains the performance of the CPU and does not let the power consumption go high. This quality makes the GTX 1660 good in the market for gaming laptops.
GTX 1660 at 1080P resolution
The main and highly demanded thing by the users while buying the GPU is its performance and price. After getting the price, the users want high-resolution support of a GPU to play video games and carry on video editing,
When we talk about the GTX 1660 graphics card and its support for 1080p games, it is the perfect choice for you. You can use this card to play a game with 1080p resolution at a high boosting rate. You do not need to worry about the power consumption and clock speed of the graphics card.
Gamers can play all 1080p games at a high-speed rate to enjoy a more realistic gaming experience. Here are some games that you can play these game on GTX 1660 at high performance:
The GPU allows you to play Battlefield V games with 1080p resolution at the frame rate of 60FPS to 70FPS.
The next 1080P video game that you can enjoy on GTX 1660 is Far Cry 5. This GPU allows you to play this game on your gaming laptop at a frame rate of 58 to 65 FPS.
Grand Theft Auto is the latest version of the game for battle lovers. You can play this high-resolution game on GTX 1660 at a 90FPS rate to enjoy a high-rating game experience.
1440P Games with GTX 1660
The video resolution supported by the GTX 1660 is 1080. You can enjoy all 1080p games on your laptop at a high FPS rate. But if you want to enjoy 1440P video games on GTX 1660 then it is not a good choice for you. The main reason for this deficiency is the limited amount of RAM on this graphics card that only supports 1080p video games.
You can run 1440p resolution games on a GTX 1660 but the frame rate for these games is reduced to too high. That is why the frame rate for the game Far Cry 4 goes low at 1440 p resolution and reaches tp 58 FPS.
Is the GTX 1660 Good for Gaming?
GTx 1660 is good for gaming and it supports all 1080p video games on gaming laptops. The clock rate is also higher in these gaming resolutions and the power consumption rate is also lower. All these things including price facto make the GTX 1660 good for gaming.
Is the GTX 1660 Super good for gaming?
When it comes to 1440 p resolution games, GTX 1660 super is the best choice for you because it supports 1440P resolution for 4K videos and games. It has a high price-to-performance ratio in the gaming laptop market. You must choose this GPU for playing your favorite video games in high screen resolution and clock speed.
Conclusion
Both the GTX 1660 and GTX 1660 Super are the best graphics cards by Nvidia in the laptop market. These graphics cards have the best performance and come at a reasonable price for you. You must select the GTX 1660 when it comes to the 1080P resolution game while 1660 super when you want to enjoy 1440P resolution on your gaming laptop screen.
FAQs
Does the GTX 1660 support 1440p resolution in video Games?
The GTX 1660 supports 1080 resolution videos at high clock speeds among 70 to 80 FPS. when it comes to 1440p, the FPS rate goes down up to 58 percent.
Which features make the GTX 1660 good for gaming?
The GTX 1660 has a good price-to-performance ratio in the market among all Nvidia graphics cards and supports high frame rate ratios on the screen.