If you are a gaming enthusiast, you know how important it is to maintain your GPU temperature. It's normal for GPUs to overheat during intense gaming sessions or heavy processing, but if the card lacks a proper cooling system, it will damage the CPU components. 
Speaking of cooling systems, triple fans offer good ventilation, but on top of that is Water cooling which offers the best method to cool graphics cards. While contemporary graphic cards today are enough to go hand in hand with your intense AAA gaming sessions, those who overclock GPU to its full potential will undoubtedly need a liquid cool graphics card. 
You may also Like: How Much Does Custom Water Cooling Cost For PCs?
There are many options today for you to consider, from mid-range to high-end, so it becomes challenging to choose one. So here we are with the best Water Cooled GPUs list. 
A Quick Comparison Chart of Water-Cooled Graphics Cards
You can find four graphics cards compared in the easy-to-understand chart above. The EVGA GeForce RTX 2080 Ti FTW3 Ultra Hybrid is the most powerful with 4352 CUDA cores, the highest bandwidth of 616 GB/s, and 11GB DDR6 RAM.

Sapphire Radeon PRO Duo HBM has the most VRAM at 16GB, but it's split between two GPUs. The EVGA GTX 1080 Ti FTW3 HYBRID has a 3584 CUDA core count and 11GB DDR5X RAM with a bandwidth of 484 GB/s. This makes it an excellent gaming option.

The EVGA GTX 1070 Ti Hybrid has the lowest performance of the four. However, it's still an excellent option for a budget build or for those who don't need the latest and greatest.
Our Picks for Best water cooled Graphics Cards
From budget picks to high-end cards, we got you covered with our Best Water Cooled graphics cards list. So let's see in detail what they have to offer!
1. EVGA GTX 1070 Ti Hybrid
Reasons to Consider
Liquid cool graphics cards are ground reality for professional gamers, and this EVGA GTX 1070 Ti Hybrid is perfect for gamers. Why is this card the best? It comes with out-of-the-box overclocking and 8GB VRAM. It can tackle the most demanding tasks easily. Moreover, this liquid-cooled GPU is VR-ready and SLI-supported and is reasonably priced.
Specifications
Ram: 8GB GDDR5
Video Output: 1x HDMI 2.0b, 3x DisplayPort 1.4, 1x Dual-Link DVI
CUDA: 2432 cores
Boost Clock Speed: 1683 MHz
Base Clock Speed: 1607 MHz
Bandwidth: 256 GB/s
Memory Interface: 256-bit
If you want a powerful GPU that goes hand in hand with your intense gaming sessions, look no further than the EVGA GTX 1070 Ti Hybrid. With its overclocking capacity and hybrid cooling system, this GPU is perfect for gamers and enthusiasts who demand high performance and cool temperatures.
Speaking of its cooling system, it combines the best of both worlds: the traditional fan and liquid cooling system. Your PC temperature will be under control while maintaining quiet operation.
Moreover, another feature that makes this card a real gem for gamers is its factory overclock out of the box. Still, you can further overclock to achieve better rates. And don't worry; GPU will not overheat while overclocking because of its hybrid cooling system.
If you look at its gaming performance, the GTX 1070 Ti Hybrid can go head to head with your gaming needs since it can play modern games at 1440p. In addition, for titles like Battlefield 1, Men of War Assault Squad 2, Company of Heroes 2, and Cities Skylines, you can achieve 4K resolution at Ultra Settings. 
And another good thing is its SLI support, but remember it will not come with a bridge so you better get that if you want a multi-GPU setup.
However, this card comes with many bells and whistles. One thing that users complain about is its hefty size. Notably, this card is extensive but also tall, so you have to check the available space of your PC case before getting it.
In addition, some users complain that this card runs hot during gameplay despite having a Water cooling system. But still, this card benchmarks at 60 FPS for 1080p resolution. This GPU is perfect for better cooling and quiet performance.
Read Also: Is Water Cooling GPU Worth It
2. Sapphire Radeon PRO Duo HBM
Reasons to Consider
Sapphire Radeon PRO Duo HBM is a potent graphic card that is enough for all intense graphic endeavors. Since it comes fitted with a dual HBM of 8 GB, you can easily do the most demanding computations. So if you have a generous budget, you can go for it as it will not disappoint.
Specifications
Ram: 8GB per GPU, for a total of 16GB High Bandwidth Memory
Video Output: 3x DisplayPort 1.2, 1x HDMI 1.4a
CUDA: 8192 cores
Boost Clock Speed: 1050 MHz
Base Clock Speed: 1000 MHz
Bandwidth: 1024 GB/s (512 GB/s per GPU)
Memory Interface: 4096-bit (2048-bit per GPU)
The Sapphire Radeon PRO Duo HBM packs a more incredible punch for those with the best performance for demanding applications.
Since this is a dual-GPU card, it offers unparalleled performance but with some handsome bucks since it comes fitted with 16GB of HBM memory, where each GPU has access to its dedicated 8GB RAM.
Moreover, a double GPU comes with dual bandwidth and more stream processors, guaranteeing the best in-game performance. Moreover, the massive memory interface of 4096-bit and 512 GB/s of memory bandwidth let you glide through your intense graphic tasks smoothly.
And since this graphic card is powerful enough to handle complex tasks, it produces more heat. But don't worry since the cooling system on the Radeon PRO Duo HBM features a closed-loop liquid cooling system. With this system, your GPU has a 120mm radiator and three 90mm fans, which let you play your favorite title without worrying about temperatures, even during extended workloads. And yes, these fans are quiet and will not make noise.
If you ask about its power, the Radeon PRO Duo HBM has been a real workhorse since it. Can seamlessly handle even the most demanding tasks with ease. Moreover, this GPU also works with AMD's CrossFire technology to simultaneously get the best performance out of multiple Sapphire HBM cards.
While this GOU has a lot to offer, one major downside is that it will make a hole through your pocket to get it. Many users need help to afford it. And since this card has dual processors, it is likewise a very power-hungry card, requiring three 8-pin power connectors and a 350W from your PSU. In addition, many users complain of driver issues as well.
Broadly speaking, the Sapphire Radeon PRO Duo HBM is a good graphics card for those who want to take their gaming to another level.
3. EVGA GeForce RTX 2080 Ti FTW3 Ultra Hybrid
Reasons to Consider
EVGA GeForce RTX 2080 Ti FTW3 Ultra Hybrid is a killer card that can let you play most modern titles at 4k and 1080p with decent frame rates. Since it has a hybrid cooling system, it can let you overclock the GPU to its best potential without overheating.
Specifications
Ram: 11GB DDR6
Video Output: 3x DisplayPort 1.4, 1x HDMI 2.0b, 1x USB Type-C
CUDA: 4352 cores
Boost Clock Speed: 1755 MHz
Base Clock Speed: 1350 MHz
Bandwidth: 616 GB/s
Memory Interface: 352-bit
The RTX 2080 Ti FTW3 Ultra Hybrid from EVGA is a high-end Water Cooled GPU. As most Water Cooled GPUs come with a pricey tag but this one is good for mid-range PC builds. Moreover, it will not compromise on in-game graphics since you can achieve 4k gaming at 60fps for most titles.
It is based on Turing architecture and can overclock to 1755 MHz so you can get the best out-of-box performance. But remember this card is power-hungry and will need a minimum 600W power supply. Moreover, many users complain that during overclocking it crashes the systems and you might run into problems.
Another thing that this card outperforms is its aesthetics. It comes with RGB lighting so you can match it to your existing PCs. All in all, this GPU provides a good bang for the buck for 4k gaming.
4. EVGA GeForce GTX 1080 Ti FTW3 HYBRID
Reasons to Consider
The most efficient GPU on our liquid cool GPUs list is this EVGA GeForce GTX 1080 Ti FTW3 HYBRID. Based on Pascal architecture and partitioned to 3584 stream processors, this GPU is enough with its hybrid cooling system for most demanding tasks. 
Specifications
Ram: 11GB DDR5X
Video Output: 3x DisplayPort 1.4, 1x HDMI 2.0b, 1x DVI-D
CUDA: 3584 cores
Boost Clock Speed: 1683 MHz
Base Clock Speed: 1569 MHz
Bandwidth: 484 GB/s
Memory Interface: 352-bit
And lastly, we have another EVGA GeForce GTX 1080 Ti FTW3 HYBRID featuring a hybrid liquid cooling solution and fan ventilation. Since this GPU comes fitted with a fan and efficient cooling, you can achieve lower temperatures and higher overclocking potential.
And if you want to uplift your PC aesthetics, you can leverage its 3D lights. When your GPU overheats, its RGB lights will turn red so you can tweak the in-game settings.
Performance-wise, the GTX 1080 Ti is a good tool that can take your games to another notch. The card entails 11GB of GDDR5X memory, 3584 CUDA cores, and a boost clock of 1683 MHz. Result? It is the recipe for a smooth and lag-free performance, even at high resolutions and settings.
But if you are someone who wants to use it quietly, this card is not for you since it makes loud noises during extreme sessions. But one thing where this card outperforms is its 4K gaming at 60+ fps. So if you are someone who is an avid gamer, go for this card.
Another fantastic thing about this card is that it supports NVIDIA's G-SYNC technology. So don't worry. This GPU can tackle the problem of miss-sync between your GPU and the monitor's refresh rate. In fact, this GPU lets you connect up to 4 monitors for 240Hz.
So if you are sick of screen tearing and input lag for a smoother gaming experience, you can go for this GPU. Moreover, you can also attach our VR-ready headphones.
But remember, this card also demands a reasonable sum, so if you are on a tight budget, this card might be for someone else.
Some Tips To Consider Before Getting a Liquid Cooling GPU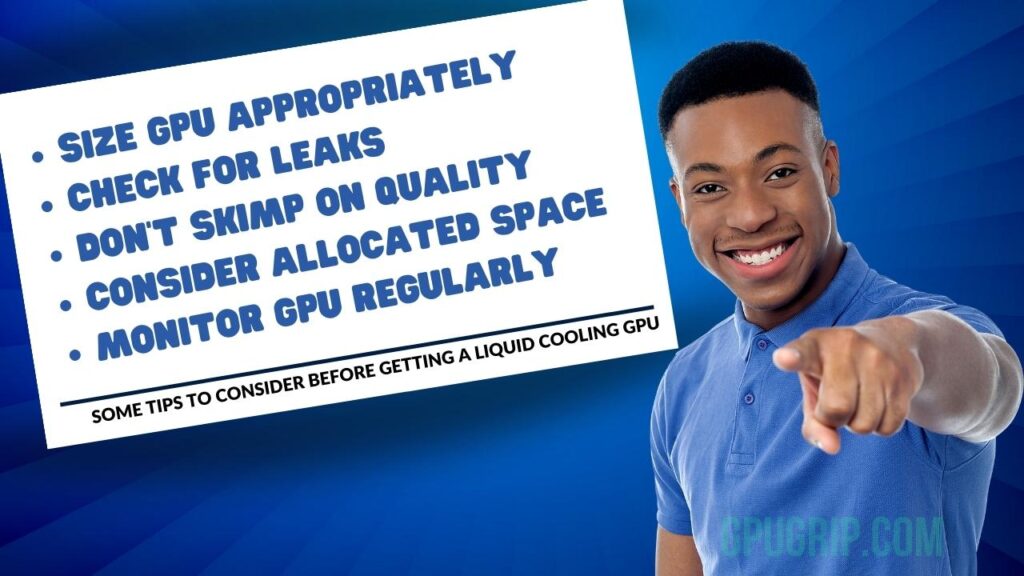 Since Water Cooled GPUs are a handsome investment, you should keep the following point in mind before buying one:
It is essential to size your GPU properly. Why? Since different CPU cases have different allocated spaces for the GPU, you need to figure out how much your PC case can offer. If you fit a big card in a small case, it will block airflow leading to overheating.
Since Water cooling GPUs are different from conventional fan designs, they get more attention because leaks or blockages can happen, leading to system damage. So to protect your PC from costly repair, it is essential to check the GPU now and then.
You should be generous about buying a liquid-cooled GPU. Why? Because make a bargain for a cheap GPU, and it will put your system to waste. Make sure you get high-quality bits and pieces of your PC.
Is a Water-Cooled GPU Better Than An Air-Cooled GPU? 
Both Water Cooled and air-cooled GPUs have their gives and takes. Since the Water Cooled leverages water to dissipate heat while the latter uses air, there is a difference in their performance.
Water Cooled GPUs have the edge over fan-cooled GPUs because they maintain lower temperatures and noise levels than air-cooled GPUs owing to their Water cooling technology. On the other hand, the air-cooled GPUs are budget-friendly but somewhat noisy and less efficient than liquid cooled.
But remember, the liquid-cooled GPU installment is somewhat more complicated than air-cooled, but they have more aesthetic edge over the former. In addition, air fan GPUs don't need much maintenance, but you need to check leaks regularly for liquid-cooled GPUs.
GPU AIO Water Cooler, Prebuilt Liquid Cooled GPU, and A Custom Water Loop 
When it comes to liquid-cooled GPUs, you have three options. GPU AIOs (All-In-One), prebuilt liquid-cooled GPUs, and a custom water loop. The former two are pre-built GPUs with no problematic installation, while a custom water loop is a more intricate yet customizable GPU that needs more knowledge to build.
Here are some of the good and bad of GPU AIOs and prebuilt liquid-cooled GPUs:
Pros:
They need deep knowledge to install GPUs.
You don't need to check GPU now and then low maintenance
They offer good cooling at a more affordable price
Cons:
You don't have a customization option
It might not be compatible with all GPUs
It might not be as efficient as custom water loops
Is a custom water loop the best option for you?
Yes, a custom water loop has the edge over the others in terms of cooling efficiency, noise levels, and overall performance. Since AIO can house more liquid coolants, they provide better cooling and in-game efficiency. But remember, you have to have a better understanding of custom water loop installation since, with one wrong move, you can damage the entire GPU setup.
Although custom water loop outperforms in most features, AIOs can also make up for what custom water loops offer with a little price difference. So if you have a solid budget and want nothing less, then the best custom water loop is for you however, for budget buyers, the AIO systems are also a good choice.
How do you Install and Maintain a Water Cooled GPU?
When you plan to install a Water Cooled GPU, you must first ensure that your GPU is working well and then proceed further. For installation follow these guidelines:
First, disassemble your existing GPU, if not new, and clean it thoroughly.
Next, you have to apply thermal pads and paste them on the GPU so it can dissipate heat. You can check the user manual regarding the thermal pad application.
Now apply the water cooler on the thermal paste while adhering to the guidelines.
After ensuring the water cooler is in place assemble it in your PC.
Maintaining Water Cooled GPU
To maintain a Water Cooled GPU you need to check your coolant from time to time to ensure that it is working fine. If you see the liquid turning yellow it means you need to replace it. Moreover, you should also check the coolant for possible leaks every month to prevent any expensive water damage.
Conclusion 
Water cooling a graphics card can offer a plethora of benefits for gamers and expert graphic designers. You can unleash the real gaming spirit with improved cooling performance, minimal noise levels, and enhanced overclocking potential.
But when choosing the best Water Cooled graphics card, you must consider your needs and wants. Moreover, you should also consider your budget.
If you are looking for the best-performing GPU without any compromise on price, we recommend the Sapphire Radeon PRO Duo HBM. However, consider the EVGA RTX 2080 Ti FTW3 Ultra Hybrid and GTX 1080 Ti FTW3 HYBRID if you want a budget pick.
It depends on your budget and graphic needs, so choose a Water Cooled GPU carefully.